Finding that motivation to work out can be an uphill battle for many of us, even at the best of times. We know how easy it is to find excuses to skip a workout session... So for that very reason, we're here to help you strike "I Can't Work Out Cos I'll Mess Up My Hair" off that list of excuses for skipping important exercise opportunities.
Being healthy is beautiful, and shouldn't come at the cost of your hair looking good... Even when working up a sweat.
Need some more convincing? 
Working out gives you a burst of feel-good endorphins that last long after you set the kettlebell down. When you're fit and healthy, your body is firing on all cylinders and in top physical condition. You're buzzing with energizing happy hormones, and your stress hormones take the back seat. Your confidence is boosted, your body feels tight and your favorite jeans hug your curves in all the right places. Your hair and skin start to glow from the inside out. It's completely addictive, and something you can do for yourself that is 100% guilt-free. 
We all know the benefits of being healthy and fit... But there's an extra dimension of frustration for us women with natural hair, that contributes even more to our often love/hate relationship with working out. Studies have shown that 2 out of 5 of us admit to avoiding working up a sweat simply because we don't want to ruin our hair... So you're not the only one guilty of skipping the gym (or online workout course!) for the sake of your gorgeous style you worked so hard on. But something's gotta give, because we want to be healthy and look good while we're getting there. 
Planning and Preparation Prevents Poor Curl Performance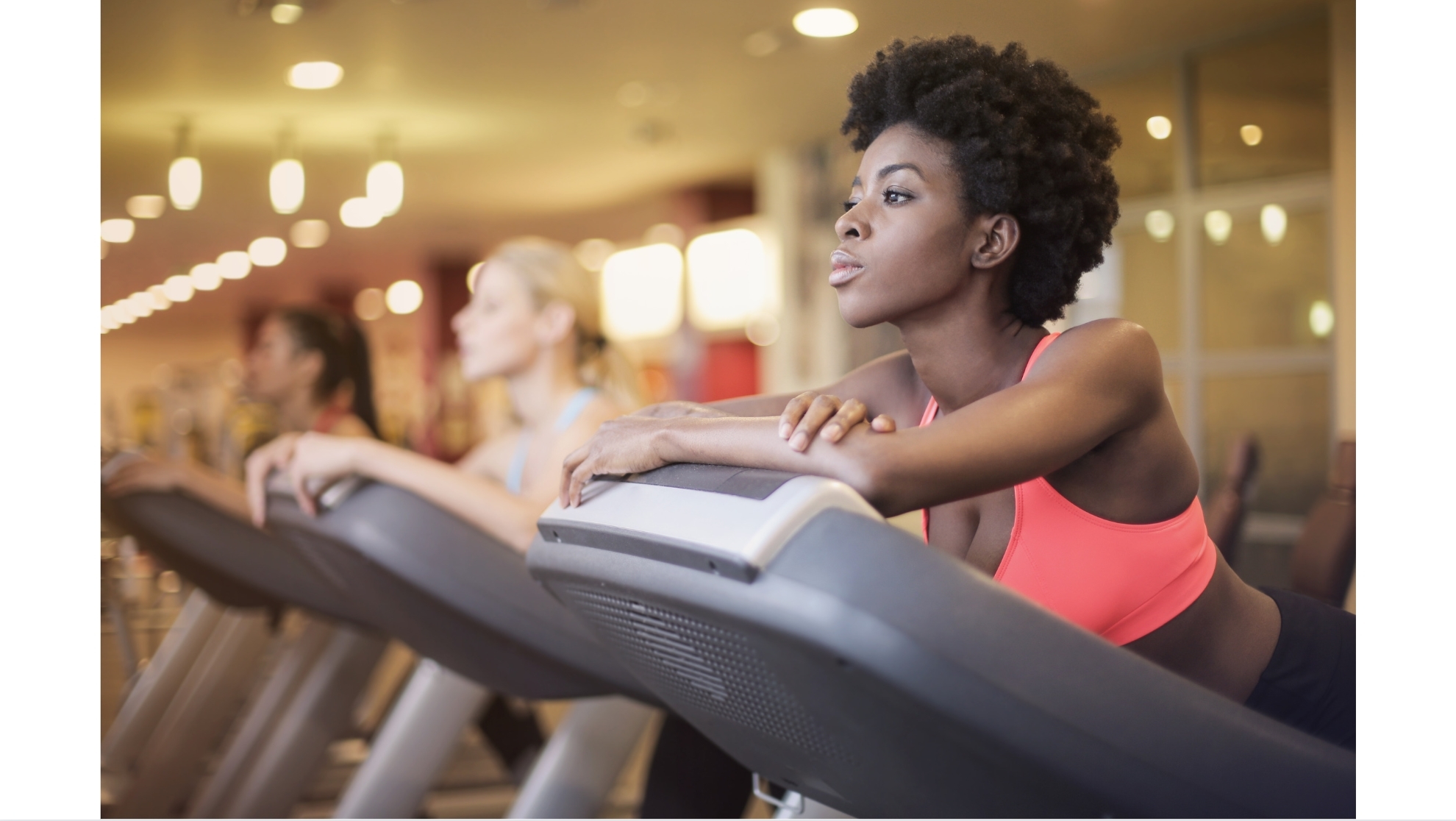 It's totally possible to work out and still have good hair… It just takes a bit of understanding so we can outsmart those pesky hair issues with some clever work-arounds, before they actually happen. The main culprit that wrecks our hair when we work out- surprise surprise... is sweat. 
Sweat is a combination of salt and water that's being exuded by our pores. You might think that the moisture coming from our scalp is what's causing the frizz, but it's actually the high concentration of salt in the sweat that's the most problematic. Salt is extremely drying on our already naturally-dry curly hair… So the best insurance policy you can use to avoid post-workout hair troubles is keeping vigilant with your moisturizing routine, and loading up your hair with conditioning products like essential oils and leave-in conditioner before you sweat. 
You might even find that your post-workout hair will be the best you've ever experienced! We love the big and beachy curly look we get by combining already moisturized hair with some essential oils for our scalp, mixed with a bit of salty sweat for texture. 
 Here's how to plan and prep for perfect hair, no matter how active you are:
Schedule your workout around your hair: The first step is to plan when you want your hair to look its best, and work out when Wash-Day is going to be around that. If you want your hair to be big for a Sunday virtual brunch with your girlfriends on a video chat, schedule your Wash 'N' Go for Thursday or Friday, so your hair will get lots of volume from the sweat on your Friday and Saturday workouts.


Stick to a dedicated moisturizing routine for a good foundation: Wash your hair weekly with super hydrating, high-quality products like Urbanbella's No.7 Non-Lather Cleanser, and Honey and Aloe Cleanser. Follow with Neat Nourishing Conditioner to make sure you're going in to your workout with hair that's being treated with the TLC it deserves, and it will cooperate with you so much more.


Before your workout, get that extra moisture on there one last time so your scalp is ready to revolutionize that sweat into something awesome! Massage some drops of invigorating Urbanbella Piperita Scalp Serum onto your scalp in preparation.
Taming the Beast (Mode) Hair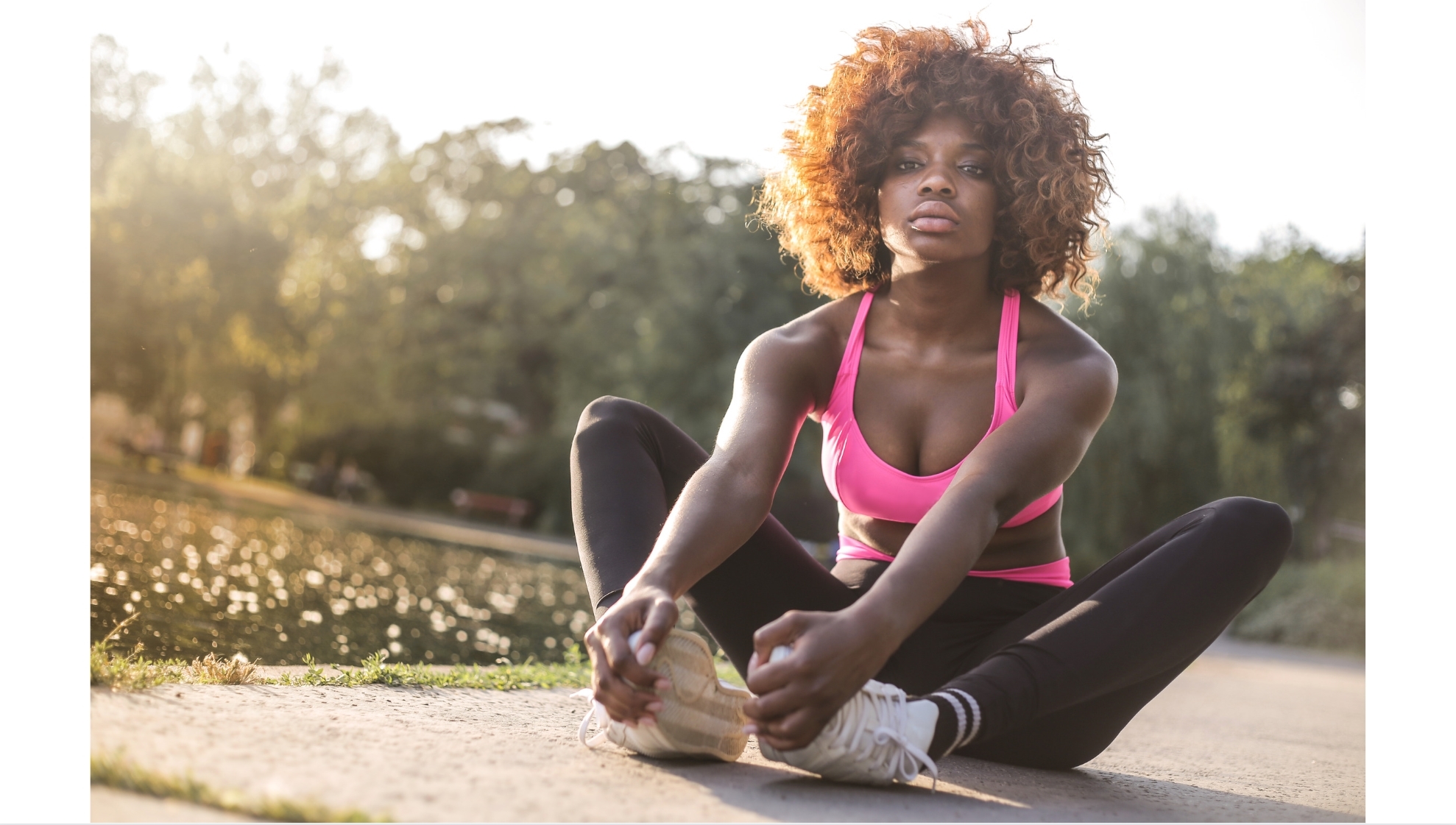 Now that you've got your hair moisturized with a good baseline routine, it's time to tame it a bit before launching into beast mode... So you can emerge from the other side of your workout not looking like a wild thing.
How to stay cool, calm and collected during your sweat session:
Identify your sweat spot: Everyone has hot spots on their scalps that seem to sweat more than others. The aim is to pull the ends of your hair away from where your central sweat spot is, to keep them as dry as possible. If you sweat most at the top of your head, try pulling your hair up in a pineapple, secured right at the spot that your sweat originates.


Choose the right hairstyle for your workout: If your curls are long, spritz in some leave-in conditioner such as our Urbanbella Sunflower and Shea Hair Milk before pulling your tresses back out of the way, with your ends free. This could be a simple pineapple, a mohawk of buns down the center of your head to get some stretching action in at the same time, or a few braids to keep your hair back out of the way. If you've got short curls, it's even easier- just scrunch through some leave-in conditioner to counteract the drying effect of the salt in your sweat to come, and leave your hair be in its Wash 'N' Go style.


Tie it down with a scarf: This will absorb excess sweat and apply some tension to your hairline so your edges don't frizz up. You'll probably get a bit of a stretching effect from doing this too, which isn't a bad thing!


Let your scalp breathe: Choose your headband fabric wisely here. Satin is great to protect your hair from friction and breakage, but if you use a fully satin scarf and tie it too tightly, it can trap sweat on your scalp and cause congestion. Try a cotton headband lined with satin instead, to absorb sweat at the same time as cutting down on friction, whilst also letting your scalp breathe. 
The Final Set of Reps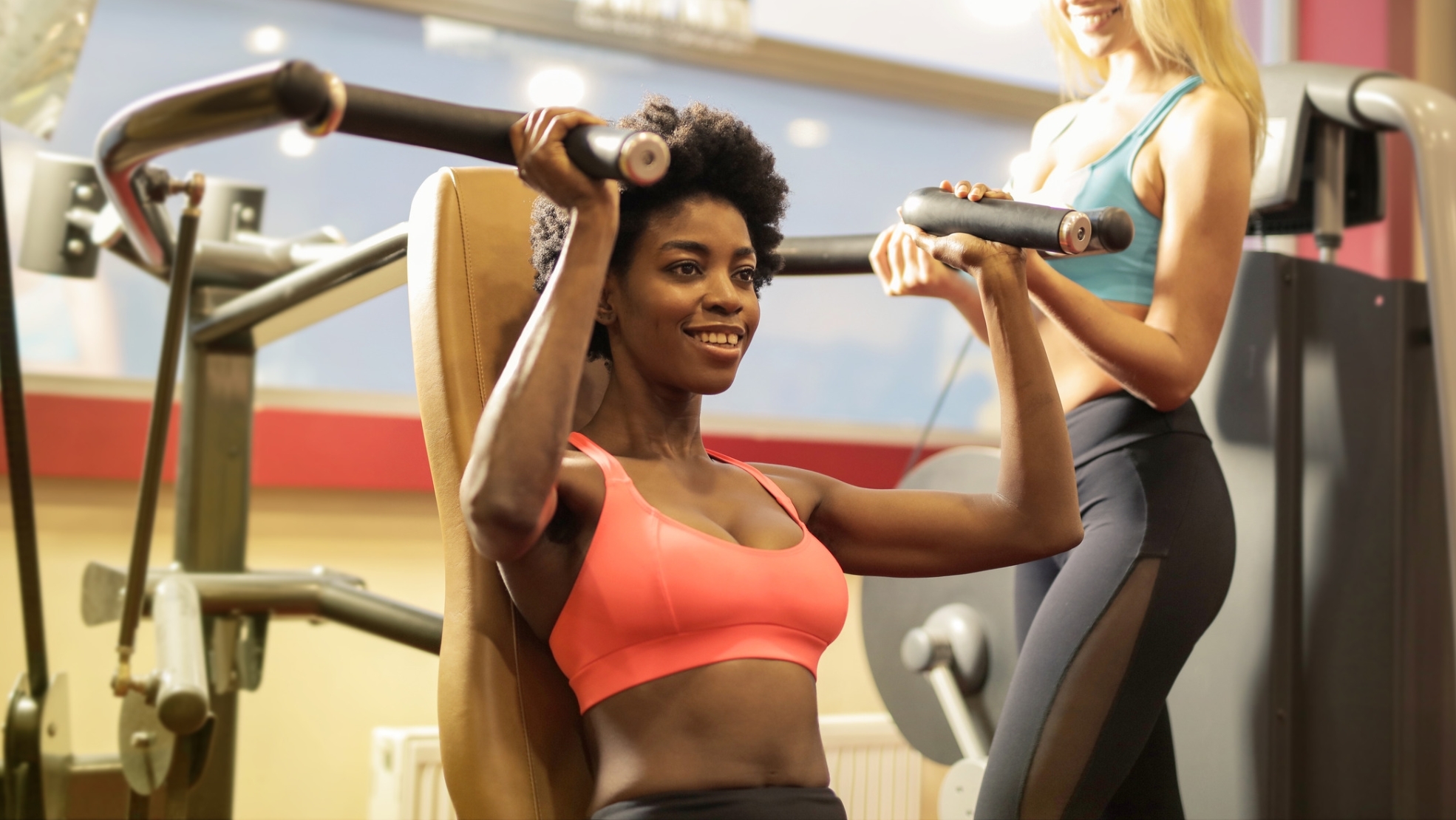 You're nearly there! There's just one final set of reps for us curly-haired naturalistas, but trust us... It's well worth grinding through this final push. You'll have the best post-workout hair ever if you follow this routine (and looking great is the end goal, plus what we're doing all this for, right!)  
Here's the cool-down:
Use clarifying products for your scalp: When you're working out a lot, your hair can gather buildup quickly from the extra product you're using to moisturize, along with the sweat. Exfoliating your scalp so it can breathe properly stimulates hair growth and keeps your tresses healthy and strong. We recommend using a good clarifying shampoo every two weeks to remove buildup on your scalp and hair, like our deep-cleaning Urbanbella Honey and Aloe Lather Shampoo.


Co-wash often: While you don't want to shampoo your hair every single day and risk drying it out, you certainly don't want all the toxins in your sweat to stay on there for a long time and dry out your curls. Keep your hair oiled and hydrated with co-washing, by going through the motions of wash day, but just skipping the shampoo part. Give your hair a good rinse in the shower, then apply a deep conditioner such as our Urbanbella Organic Coconut Cream Repair Mask, crank up the heat and pop on a shower cap to concentrate the steaming benefits. You'll get double the joy by letting your hair get an extra dose of moisturizing, as well as enjoying the soothing steam loosening up all your tired muscles. You'll come out of the shower with that post-workout glow and amazingly steam hydrated hair.


Refresh your scalp between workouts with Piperita: Because life goes on and sometimes you don't have time to wet, co-wash and restyle your whole hair! Using Piperita Serum is loaded with clarifying Peppermint and Sweet Orange Oil, and massaging a few drops onto your scalp post-workout will make you feel fresh, smell great and relieve a dry or itchy scalp.


Reapply styling product on damp hair: Even if you haven't wet your hair in the shower, it's a good idea to work a little extra styling product through your ends as they're drying after your workout to keep frizz at bay, especially if you have a shorter crop. After massaging some refreshing Piperita Scalp Serum onto your scalp, work a little Urbanbella Tamu Curls through your mid-lengths and ends for a renewed wash 'n' go effect. Your hair will love the root boost and beachy texture blast you get from the salt and extra defining product, so you'll have a gorgeous lion's mane of voluminous curls when it dries.


Let your hair dry to eliminate frizz: After you work out, if you don't have time to shower and co-wash, make sure you cool down completely before unleashing your mane. Leave your scarf or headband on and your hair tied up until it's completely dry, as this will prevent frizz from springing up. Also, be sure to let your hair dry before heading to bed if you're doing an evening workout session, to avoid waking up with curly kinks and frizz in unwelcome places. 
------------
None of us should have to sacrifice working out and getting all those health and mood enhancements (and our bodies looking tight, let's be honest) just for the sake of having beautiful hair. 
By putting in a little effort on the front end, and using the right high-quality products, we can stop the hair mayhem from unfolding on our beautiful styles when we work out. Let's finally give that cop-out the attention it deserves. We've all got a hundred other excuses why not to work out that we create in our minds and have to regularly contend with... What a relief that messing up our hair doesn't have to be one of them any longer!
Drop us a line in the comments… We'd love to hear your favorite hair tips that help your workout hair look great before, during and after!
~Keneesha and the Urbanbella Team