Thanks for joining me as I walked you through my Wash-N-Go on Facebook Live this week. With the pandemic keeping all of us indoors, our hair is having to go that extra mile while we're relying completely on home hair styling. Not sure about all of you, but I'm personally counting down the days until I can get back to the salon for a much-needed trim!
So, in the meantime... Each week when I wash my hair, I'm doing it live in front of you all so you can get some tips and ideas. The most important thing I'd like to emphasize is that these current times are actually letting us get a greater understanding of our own hair, as we're all home styling right now and working with what we've got. I find it's always helpful to see somebody else's process and then use that information to make adaptations for your own hair… So I hope you'll enjoy the journey of learning with me and gaining a deeper understanding on what makes our hair tick.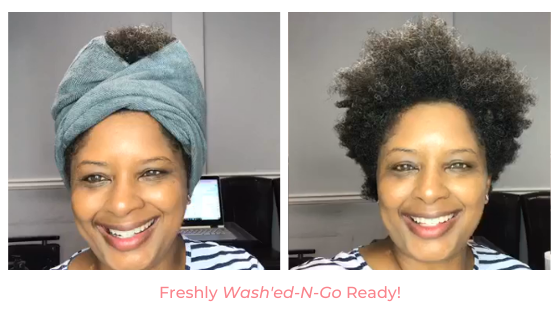 For those of you who missed it, here's a roundup of my top tips from my DIY Wash-N-Go, plus what I've learned so far about doing my hair at home… 
Things I Learned This Week & My Improvements
With all this close observation of what I'm doing to my hair, I'm establishing a good baseline on what works for my hair and what doesn't. Here's some revelations from this week, and some areas for improvement I noticed:
It's essential to make clean parts! When sectioning my hair to comb it out, using a parting comb (from the brand-new Urbanbella Comb Bundle Wash-N-Go Comb Bundle), and taking defined sections makes the combing out process easier and more thorough. It also helps ensure I apply the product evenly which helps give me better definition.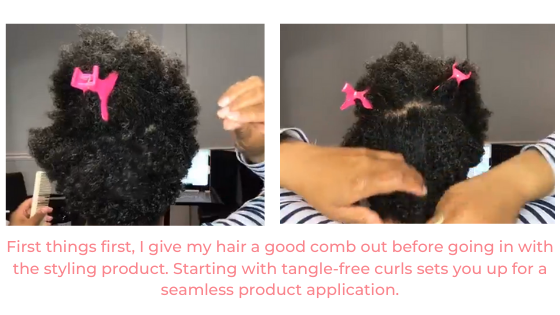 For thicker and coarse-textured hair like mine, make it more manageable by working on smaller sections. Again, this results in better curl definition.

Not every area of our hair is created equal- There's some parts of our heads that have thicker density, or can have a different texture than the rest of your hair. Identify any areas where your hair drinks up more product or requires a bit extra to achieve good definition, then focus your attention on getting enough product on these sections.

Good things come to those who are methodical! I learned it was crucial to take my time. The week before, I was rushing and the results were obvious. I started getting some frizz on Day 3, so this week I spent more time really concentrating on the areas that required more TLC.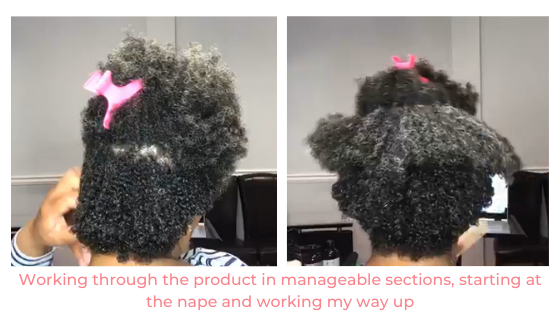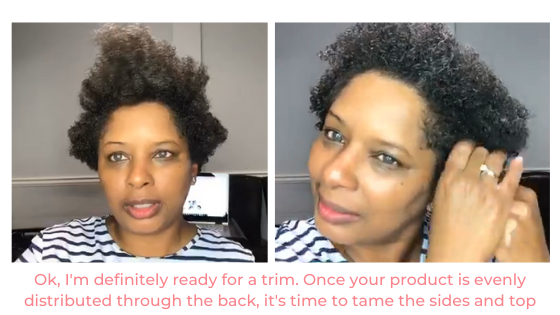 I can use a bit more

Urbanbella Neat Hair Gel Extra Firm

on my hair for additional hold, and help achieve a longer-lasting style. I love that high shine and definition you get with the XF (Extra Firm) version of this gel, and my hair can take it because it's moisturized from excellent weekly steaming and quality products.
 How To Adapt Your Styling Product to Suit Your Needs
Each week your hair might have different requirements in your styling product performance, and some adjustments that need to be made to get the best result. Your hair might be a little drier than usual, or there could be some weather forecasted that needs an extra level of defense to keep those curls looking defined. No matter what your week has in store, we've got you covered. I've formulated a range of different styling products here at Urbanbella, so you can mix and match them with confidence. With the right cocktail of stylers, you can achieve the exact result your hair needs to look its best. Here's your quick guide to choosing the perfect combination for your most show stopping curls: 
It's important to select which styling product  to use based on your hydration level or moisture needs.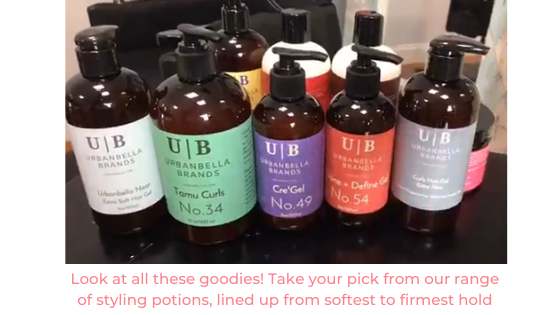 Things I Did Differently This Week
After seeing how my hair behaved last week, on Wash Day this week I made some changes to tweak how much volume my hair has and get a longer lasting style for the week ahead.
I adjusted my products this week to include more holding capability. Last week, I used more of the Extra Soft on my hair, which was fine- but it was more afro volumized than usual.
This week I used the Extra Soft Gel like a leave-in treatment- I just glazed it over my hair 2 times before going in with the Extra Firm Gel to define the curls. Right before clipping down the sides and going under the dryer, I added on some

No. 34 Tamu Curls

 because I just love the fragrance!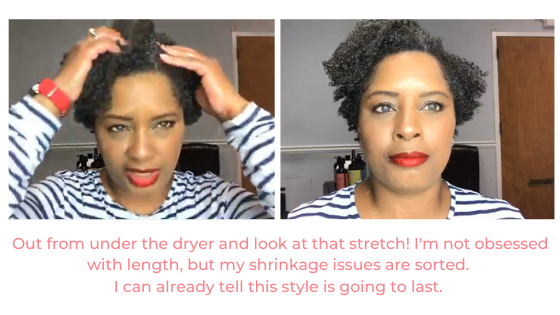 My Technique to Combat Shrinkage 
Teaching techniques that minimize shrinkage is a key part of the Urbanbella Salon experience. The good news is, we can still minimize shrinkage on our hair at home with a few tricks. I demonstrated a technique that always works for me, and simply involves a little strategic clipping!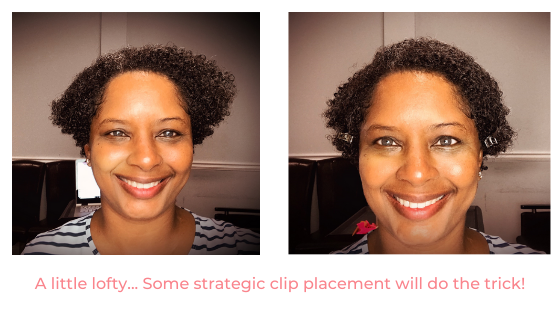 I clip my hair down on the sides before drying, which helps it to look a bit more polished- and the bonus benefit is that it also gives it a bit of stretch.

I'm finding that since I need a haircut, clipping my hair down is helping my style last longer and preventing it from puffing at the roots and shrinking.

If you're looking for some additional stretch in your hair when you do a Wash-N-Go at home, try tying your hair down at night with a scarf to pull it out a bit more. 
Steaming is Critical to Keep Those Strands Hydrated
I credit my well-hydrated hair to the regular steam treatments I do, and I highly recommend you try steaming to see noticeable results in your hair too. Here's how to get the most out of your steaming session:
Step 1- Shampoo your hair with one of our hydrating shampoos- I used the

No.78 Honey and Lather Shampoo

for a deep clean this week.

Step 2- Apply your conditioner and detangle. I applied the No. 4 Hydrating Conditioner and combed it through. 

Step 3- Leave the conditioner on while you're under the steamer. Depending on how much moisture your hair needs, adjust your steaming time to suit.

Step 4- Rinse out your conditioner and style in a Wash-N-Go. Check out my video on Facebook Live to see exactly how it's done

here.
Things I Realized After Watching the Video Back
Watching the video playback, I noticed a couple of key points that I'll be adjusting and making improvements on next week, plus some results I was really happy with that I'll be sure to do again! What a unique perspective, to get to see the process and actually see the back of my head as I was doing it to find out where I can change things up for an even better result next week. If you're not filming your styling session and watching how you do things on the back of your hair like I did, don't worry- because you can still take away some of my lessons I learned. Here's what I noticed after watching the video again: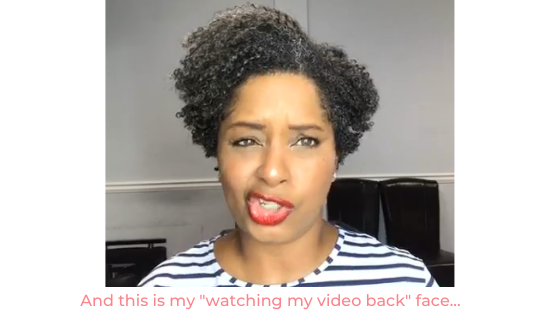 I didn't use my parting comb while making my sections, and I can tell! I noticed in some parts, my sections got too big and were harder for me to manage.  

I'll be sure to use my tools next time, my parting comb especially!

I can say that I loved my results this week. I'm writing this article on Thursday, but I can already tell my style is going to last longer. 

I was able to achieve great definition in my curl, and I was really happy with how much stretch and elongation I was able to get by using the clips to pull it down while drying.

Taking my time makes a huge difference to the overall look! In the future, I'll be sure to use my comb and focus on styling smaller sections at a time. This helps to get the best product distribution where it needs it most and make the application seamless and more manageable.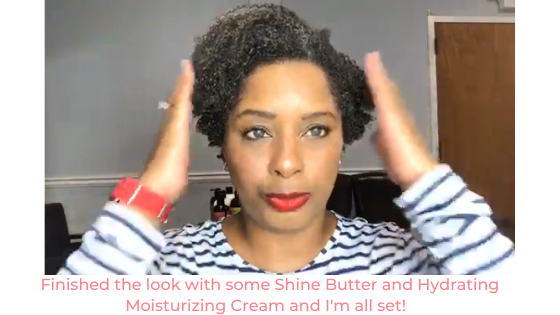 Thanks for joining me for my Wash-N-Go tutorial! You can see it again or catch it if you missed it live here. We're still here, helping you keep your hair looking fabulous even during the lockdown, and we're with you every step of the way! 
Congrats to Chiquita on winning our product giveaway- I hope you love using your new Urbanbella Cleansing and Conditioning Duo and Organic Coconut Cream Repair Mask! 
Stay tuned for more giveaways, videos and surprises by joining our Facebook group and following our page. Looking forward to seeing you all there…
~Keneesha